Customized Home Security Solutions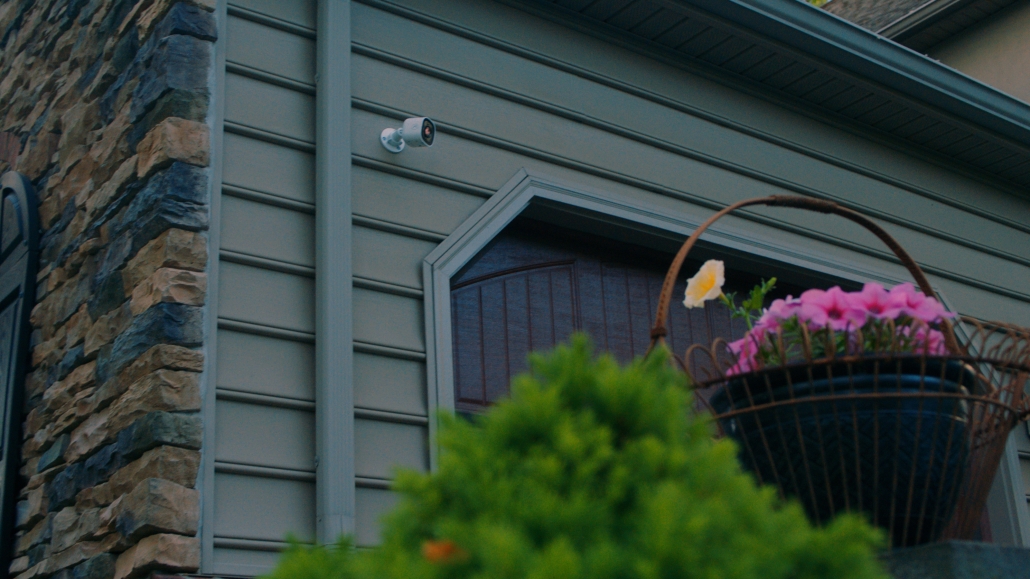 When it comes to protecting our homes and loved ones, one size does not fit all. That is why customized home security solutions are becoming the new standard for homes today. Instead of relying on a generic system that may not address your specific needs and concerns, a personalized approach allows you to tailor your security measures to fit your lifestyle and budget. As Benjamin Franklin once said, "An ounce of prevention is worth a pound of cure." With a customized home security plan, you can proactively protect your home and loved ones, giving you peace of mind and the ability to live your life worry free. From smart locks and cameras to advanced intrusion detection and remote monitoring, the possibilities are endless when it comes to creating a customized home security plan. In this blog post, we will explore the latest trends and technologies in personalized home security and include the most common scenarios of a system that works for you and your family.
As a homeowner, you want to do everything possible to keep your family safe and your home secure. One of the best ways to do that is to install a home security system. But with so many distinct types and features available, how do you know which one is right for your home?
The good news is that there are now companies that specialize in personalized home security systems to meet your specific needs. They will consider the layout of your home, the type of doors and windows you have, and even the neighbourhood you live in. Then they will design a system that will help give you the maximum protection possible.
Here are 4 ways you can make home security a more personalized experience.
Your security system, Your way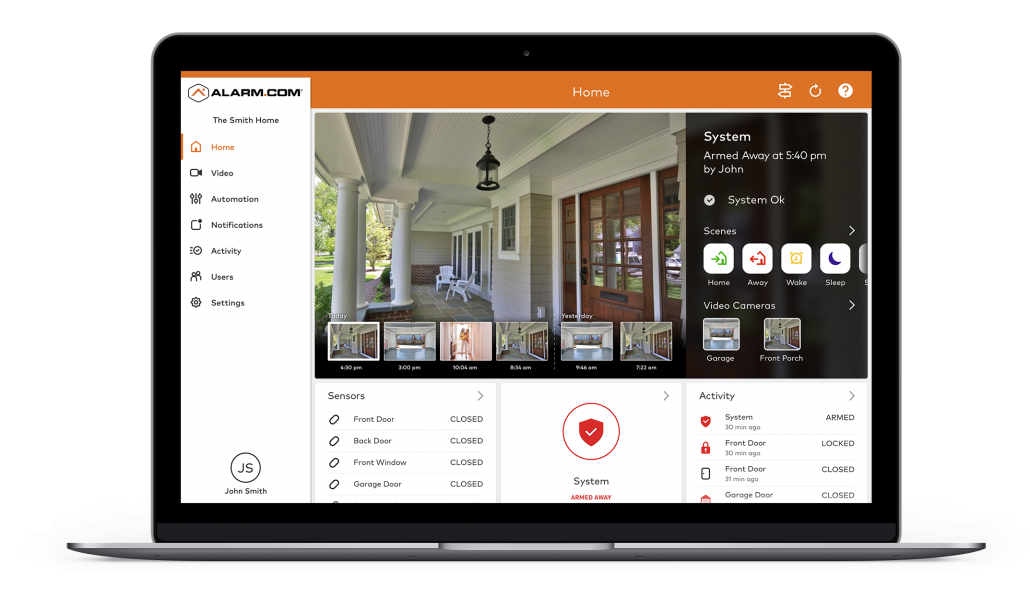 A tailored home security system can be an effective way to help make sure that your family is safe and secure. It is important to choose the right components and make sure they are professionally installed. Intrusion, life safety, automation and video devices are some of the most popular components used in securing a home.
Intrusion devices include contacts and sensors that detect when windows or doors have been opened or closed. When armed, motion detectors will trigger an alarm if they detect movement within your home. Glass break sensors detect the sound of an acoustic smash.
Life safety systems like carbon monoxide detectors, smoke detectors and flood sensors help warn you of potential dangers at home. Where you place these devices is important because if they are not in the right areas in your home, they may trigger false alarms or not properly detect environmental triggers.

Cameras provide visual analytics of specific movements (most of the time people and cars) and can alert you of suspicious activity of what is happening both in and around your property, during the day and at night.

Smart home automation devices let you control appliances and gadgets from one location, like an app on your smart phone. These devices work together to help make your home more comfortable, more convenient, and secure.
When configuring a home security system, it is important to tailor the system to your specific needs and preferences.
Did you know – After you install your home security system and receive an insurance certificate, a monitored system with added life safety devices, you may receive a higher discount from your insurance company.
Use smart home technology
The rise of smart home technology has revolutionized how we can protect our homes from intruders. Smart locks can be accessed by three methods. One can be directly from your phone via the app, you can use a code to lock and unlock your door. An added security measure can be to program the system to arm or disarm when entering the code on the door. Finally, you can customize your existing key to the new lock instead of having an additional key.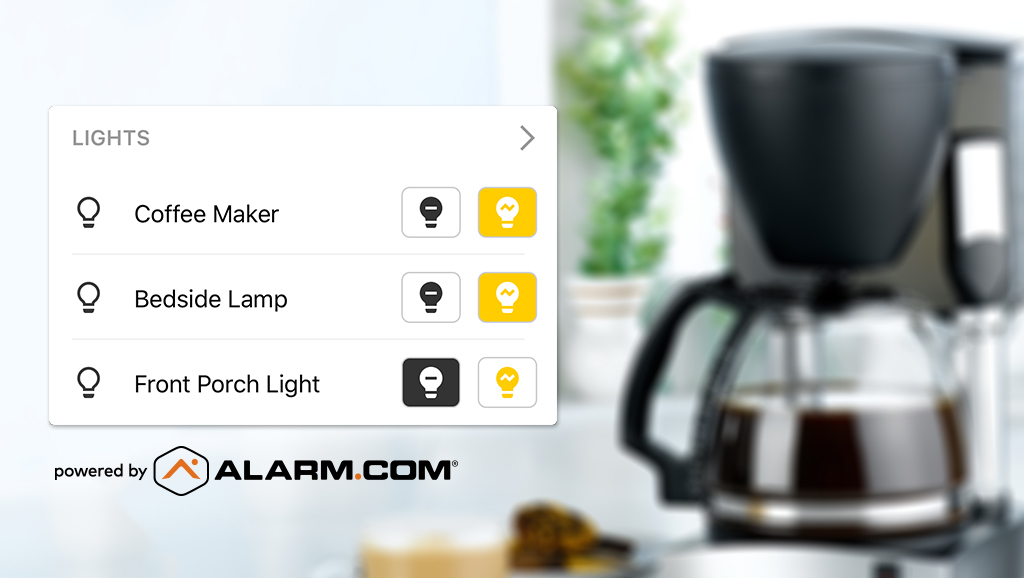 Smart lights and smart outlets provide you remote access via the app both inside and outside your home. Common devices can be accessed via the app to ensure they are off when you are away. E.g., Your coffee is good to go at the right time with your programmable switch and your lights are automated to go on at dusk and off at dawn.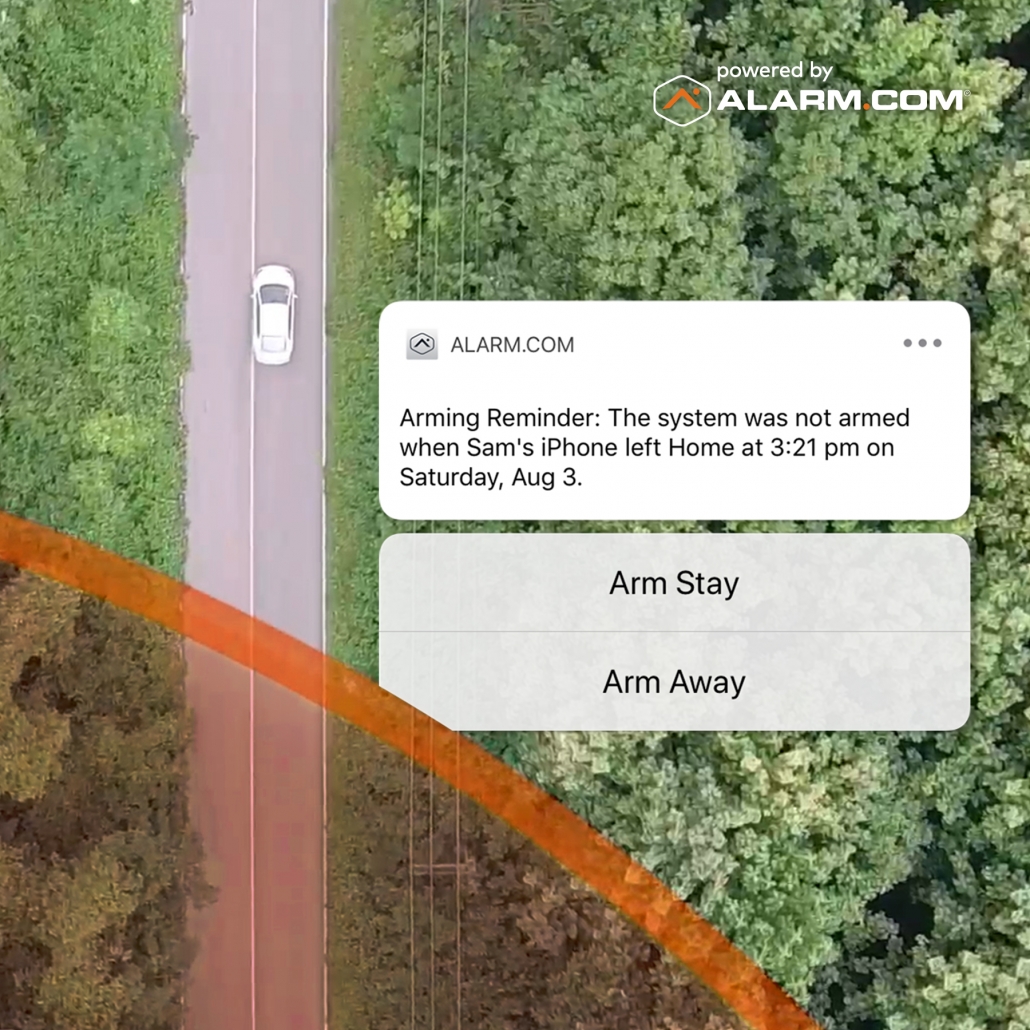 Geo-fencing is a virtual geographic boundary that enables you to set up both location-based alerts and rules based on the location of one or more smart phones with an app. You can program rules based on your desired radius to either lock up, change the temperature, or even close your garage door in case you have forgotten to do so.
With that same single app, you can customize and automate your home security devices, so they are all working together towards one goal: to help keep your home safe. Giving you peace of mind that your home is connected when you're away.
Planning a trip away? A personalized home security system can give you valuable information about the status of your home without inconveniencing your friends or family to come check on your home while away.
What's more, insurance companies prefer a monitored system if you leave your home for more than a month.
Homeowners with holiday homes or cottages use cameras in areas to protect their property while they are away. As well as providing reliable protection from theft and vandalism, video analytics can also help identify potential safety hazards and even predict when maintenance may be needed on equipment or other structures. This makes it easy for homeowners to check on their premises at any time without needing someone physically present on site.
Did you know you can integrate more than one property in the app?
Utilize home security cameras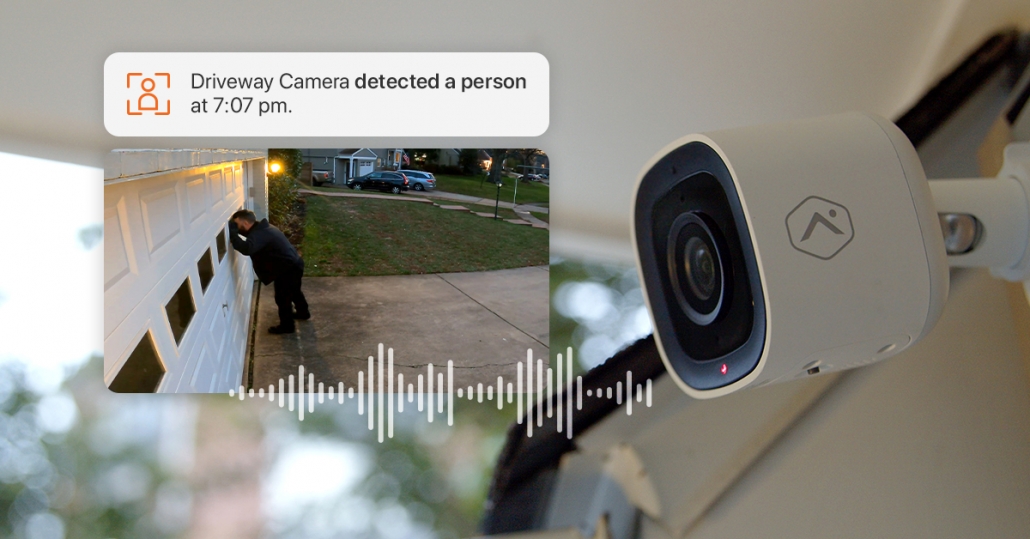 Wilsons Security recommends cameras with analytics as they will provide you with valuable information to protect your property. With modern technology, cameras can easily be incorporated into the home and provide an increased sense of safety.
Placement of the camera is important to get a clear view of your property and receive valuable information from it. Placing them in key locations such as entrances, exits, hallways and living rooms allows for better protection and coverage for your home and family members. For outdoor use, you can place them with good Wi-Fi connection around key areas outside like driveways, swimming pools, and main points of entry so that any suspicious activity outside your house can be detected.
The latest versions of smart cameras are built with advanced analytics and infrared night vision. Based on your notification settings, they provide you with a motion clip of information that is relevant to you. Footage can be accessed remotely through a smartphone app.
Homeowners use their cameras in a variety of situations and below are just a few examples.
– Know when their kids are back home from school
– Communicate with whomever is at the door instead of opening it to an unexpected visitor
– Make sure their pets are not trying to sneak a nap on the couch
Personalize your notification preferences
Customizing your home security system's notification preferences is an important part of staying safe. By choosing the types of alerts you receive and how they are delivered, you can be sure to prioritize information that matters most to you. Notifications are essential for alerting you when a threat or suspicious activity is detected in your home. Whenever someone enters the premises, opens a door, window, or cabinet, triggers a motion sensor or smoke alarm, etc., notifications provide useful information regarding the activity taking place in your house.
Most home security systems allow you to customize the types of alerts you receive and how you receive them (e.g. text, email, push notification) – ensuring your safety is always in check.  Most homeowners add an extra layer of security with sensors like on cabinets or a safe.
Conclusion
When choosing a Personalized Home Security system, below are the important factors to consider:
A security system that fits your household
Integrate smart home technology
Cameras with analytics that provide you with valuable information
Notifications that are personalized to you
Why choose Wilsons?
Wilsons Security are experts in security systems, installation and service. Our team will aim to incorporate your needs and goals into the security solutions and design it in such a way that will also provide you with the maximum protection possible.
Reach out to our team to book your free consultation.
https://wilsonssecurity.ca/wp-content/uploads/2023/05/ADC_SFH4_Garage_v724_A009C020_120101_A1QS-scaled.jpg
1440
2560
epAdmin
http://wilsonssecurity.ca/wp-content/uploads/2018/11/Wilsons-Security-logo-new-retina.png
epAdmin
2023-05-24 11:59:35
2023-05-24 11:59:35
Personalized Home Security